The Grind Torchbearer RPG Zine Quest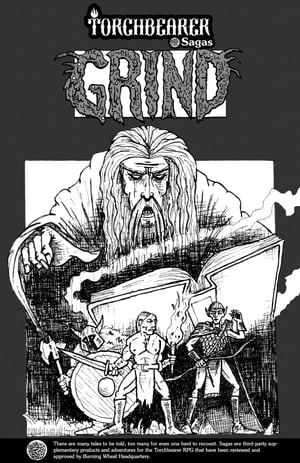 From the minds that bring you Mordite Monday… comes a new zine, jam-packed with stories, one-page adventures, adventure ideas, monsters, items, town locations, NPCs, and oodles of content to expand your Torchbearer RPG campaign.
A few highlights:
One-page adventures designed specifically for Torchbearer.
Stories and adventure ideas to stoke the imagination.
New monsters. From Troglodytes to Trolls.
New spells and arcane content.
A Wild West hack called Dastards & Desperadoes. New weapons: Gatling gun, Sharps elephant rifle, the Winchester 1873, the Colt. New conflict type: Heist-hold up express trains or stick up banks. Setting agnostic-you can chose to mashup fantasy monsters and do battle with Black Dragons or keep it entirely historically accurate.
And so much more...
Availability for The Grind ended February 28th, 2019, but you can still see what it was all about and visit The Grind Kickstarter Campaign page.
---
Our Kickstarter 4th Level Spellbinder Supporters
Treblig
Andrew Hurley
PucciniTnr
Tony Reyes
Christopher Braden Hamilton
Nathan Good
Justin Vander Schaaf
Clay Jensen
Jesse Alford
S. John Bateman
Robert Brandeis
Joe Kelly
---
Our Kickstarter 5th Level Sorcerer Supporters
Kavara Halonema
The Lord of Cloud Castle
Philip Reed
Archania's Workshop, LLC
Brother Tom
Abe Saleh
J&L Candalino
Michael de Plater
Jonathan Wooley
Brunger
Thom Jason
Joshua Duren
Pink Meanie
Seth Woodworth
War Child