Chaos has spread to the valley of Mistvale...
The second issue of The Grind's Kickstarter campaign ended in February 2020. The digital version will be available in the late fall of 2020.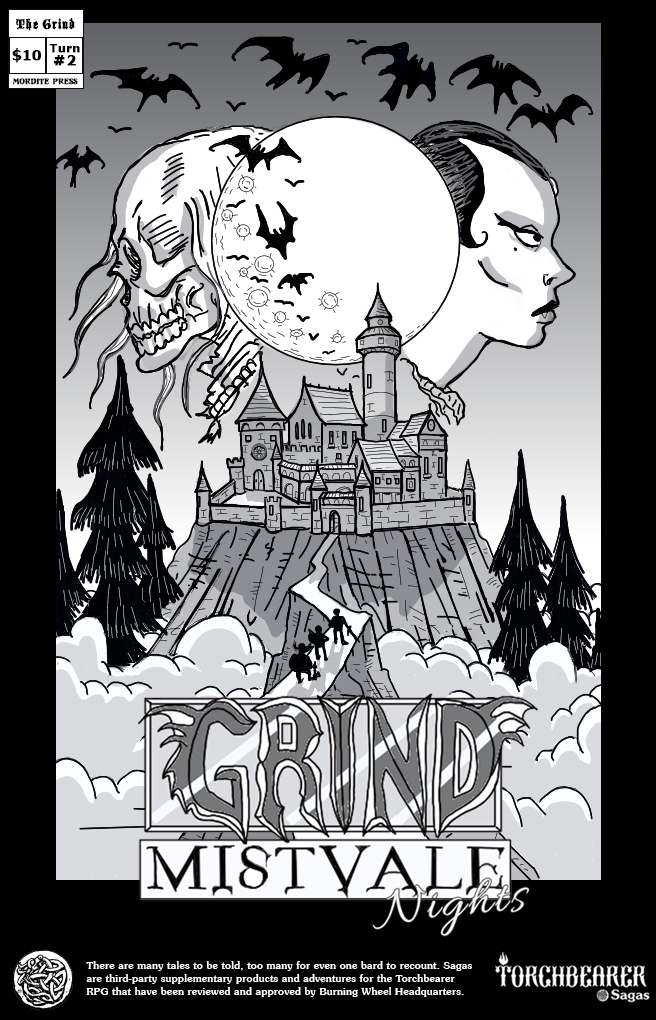 Torchbearer Sagas The Grind Turn 2: Mistvale Nights
More of what you love from The Grind:
Full adventures
Monsters
Items
Spells
Detailed town, town charts, and NPCs
And much more Mordite awesomeness...
The Seeds of Chaos
As we worked on the first issue of The Grind, we wove in a few themes. For example, we carried the theme of "magic" throughout, from the cover to the stories to the campaign supplements. We connected the magical items and monsters into the adventure modules, the adventure seeds, and so on.
As we started designing the second issue, Ryan came up with the idea to push the format into something we call "Town & Treasures." It's a simple idea: one town and a bunch of full adventures. Everything you need⁠—spells, items, monsters⁠—in a complete compendium. It's something you can just drop it into your campaign—be it in the Middarmark or your own homebrew.
This eureka moment led us into planning more new towns, cool treasures, and the material to support all of that for the future. We were already headed that direction, but this galvanized our zine's purpose. It was the perfect evolution of The Grind.
View the Kickstarter: https://www.kickstarter.com/projects/morditepress/the-grind-turn-2-mistvale-nights
Grind on,
Koch
The Grind cover artwork by Matt Gibeault