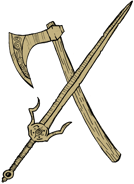 Whether playing at a convention or firing up a one-shot adventure, there are times when you are looking for not only pre-generated characters but a pre-gen team.
Read More »
Loot as if you were to die tomorrow. Level up as if you were to live forever. - The Adventurer Credo
Read More »

I greet you, Legion of Chaons, and welcome back to Mordite Monday! This week I'm turning over command to D. Koch, author of Fearless and Freebooting and all-around classy guy. His formidable mission...
Read More »