In Part II, we discussed Obstacles and how to evaluate what obstacles were challenging for a given party. Today we're going to look at versus tests and monsters, and how to gauge just how dangerous a...
Read More »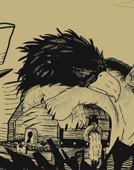 In Part I we discussed how skill and ability tests against obstacles are only a part of Torchbearer's overall flow. A lot hangs on how the GM presents information to the players and the choices that...
Read More »
The Torchbearer rulebook has solid advice on running the game, and I recommend periodically re-reading it as your Torchbearer campaign unfolds. Specific headings like Describe to Live and...
Read More »