Long have we labored in darkness, feverishly preaching the word to any who will listen. The prophets themselves speak, the pews are full, and yet our precious tome has grown scarce. It has acquired a...
Read More »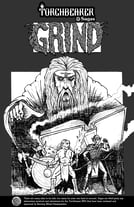 Mordite Press' much-too-big-to-be-a-zine supplement for the Torchbearer RPG — The Grind — is now available in PDF form.
Read More »
With the life draining out of G+, I'm setting up a slack that people can join for discussion while we await the promised land.
Read More »