When Jared Sorensen jumped in and started writing the Cavernous Underworld territory for the upcoming expansion to the Vagrant's Guide, we were excited to say the least. But it was only the tip of the iceberg! Our prolific colleague also submitted a new class, new gear, and a bunch of new beasties to serve as mounts...
The bad news is that this is way too much material to fit into the book we budgeted. The good news is that we don't want to cut any of it, and it all hangs together thematically. So we're going to release the material as its own booklet, with its own art, FREE under the Dungeoneers & Dragonslayer's license.
The booklet format will allow us to pack Jared's material with the art it deserves. And to give you just a taste, meet the iconic Kobold Sapper: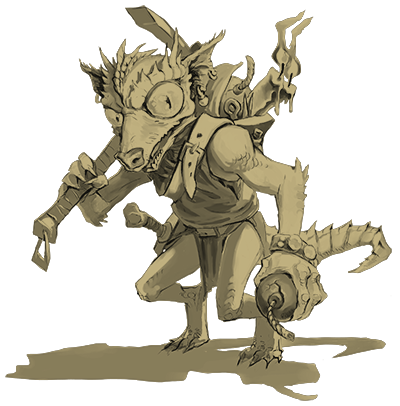 Stay tuned for more details about the Delver's Guide and Vagrant's Guide. In the next couple of weeks we'll have some more crunchy articles and new content for you, too!
chaos reigns
lord mordeth
Kobold Sapper art by Paul O'Connell