We are wrapping up the Vagrant's Guide and wanted to outline the schedule and the current table of contents.
All of this is still work-in-progress and subject to change, but you can see how things are starting to take shape. Expect some things to change.
Like most classic RPG books, there is a player section upfront and the more-detailed GM section in the back.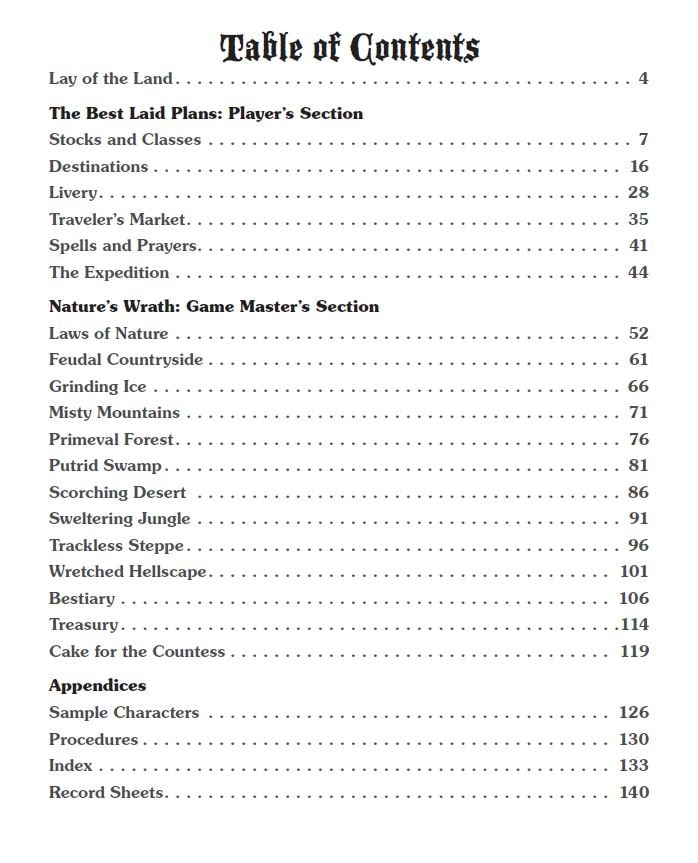 There is a player's version of the expedition rules in the Expedition chapter. Then, there is greater detail for the GM on how to run expeditions or wilderness adventures in the Laws of Nature section.
There's also a very detailed Index and the PDF has sensible bookmarks to help you navigate the document.
Campaign Rewards
For those that backed our Kickstarter, here is our planned schedule. For those that want to get the PDF or limited-edition book later, you'll have a chance after all of our backers have received their rewards first. Stay tuned for more info in the coming months.
December: PDF

We will distribute the PDF through DriveThru RPG in mid-December.

January: Print Proof

The printer will send us a hard copy to proof of the printed book. Usually, there are a few tweaks in this stage and some back and forth.

February: Printing

When our little book gets printed all depends upon the printer's queue. It can be as fast as a week, but sometimes it can take a few weeks before there is a spot.

March: Packaging

Printing labels, stuffing envelopes, and getting everything organized is a full-time job. Now is the time to double and triple check we have everything correct. If there are printing delays or complications, we have a little buffer to help us stay on track.

April: Shipping

We hope to have the books go out in April realistically.
It's a lot of work and effort, but this is book is very special. We'll continue to post some pics and updates as we go. Until then...
Grind on,
Koch
---
Background image by Duamn Figueroa Rassol
Cover featured image by Paul O'Connell